The wonders of the world are as extraordinary as our writers. We are proud to present our best poems and short stories. Our styles and imaginations may differ but we endeavor to take you beyond the ordinary into a world filled with bold words and free expression. This blog is dedicated to each individual reader, may you bask in the joy we happily share with you.
COPYWRITERS
Let me tell you a little bit about copywriters just in case you don't already know. Copywriters are paid thousands of dollars to write one "sales letter" the first page on the site. Usually a mini site and the page seems to go on forever and ever, so that by the time you get to the bottom you feel like you've read a whole book. They know how to light the fire that creates the desire and then eliminate all of the objections the reader might have. A good copywriter is a gifted con artist and they don't care whether the webpage owner is legit or not as long as they get paid. The really good ones are on contract to write entire sites. And you can mark my words they're the ones making the dishonest webmasters rich. Regards BDC

ONE RED ROSE TO THE ONE I LOVE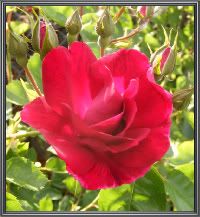 Given on this special day so that you will know not only today ... but every day ... that My love grows stronger with each passing moment! YOU are my life, my dreams, my hopes and my desires all wrapped up in one little package and I love this package with all of my heart!